Covered in copious amounts of glitter, Seattle-based band Mommy Long Legs puts on a delightfully gaudy performance. They are a pop-punk superpower group consisting of members Lilly Morlock, Cory Budden, Melissa Kagerer, and Leah Miller. Mommy Long Legs released its second EP of last year, titled Assholes, in October of 2015.
The album is both rambunctious and rapid, filled with crunchy chords and sass-inflected screams. On tracks like "Cat Callers", they address vexing jeerers while singing, "You know you'll never get laid that way." On the title track "Assholes", issues such as the swift cookie-cutter condo-ization of Seattle are farcically framed.
Shortly after the album was released, I was able to talk to the band on the potential of comedy, accessibility, feminism and making art.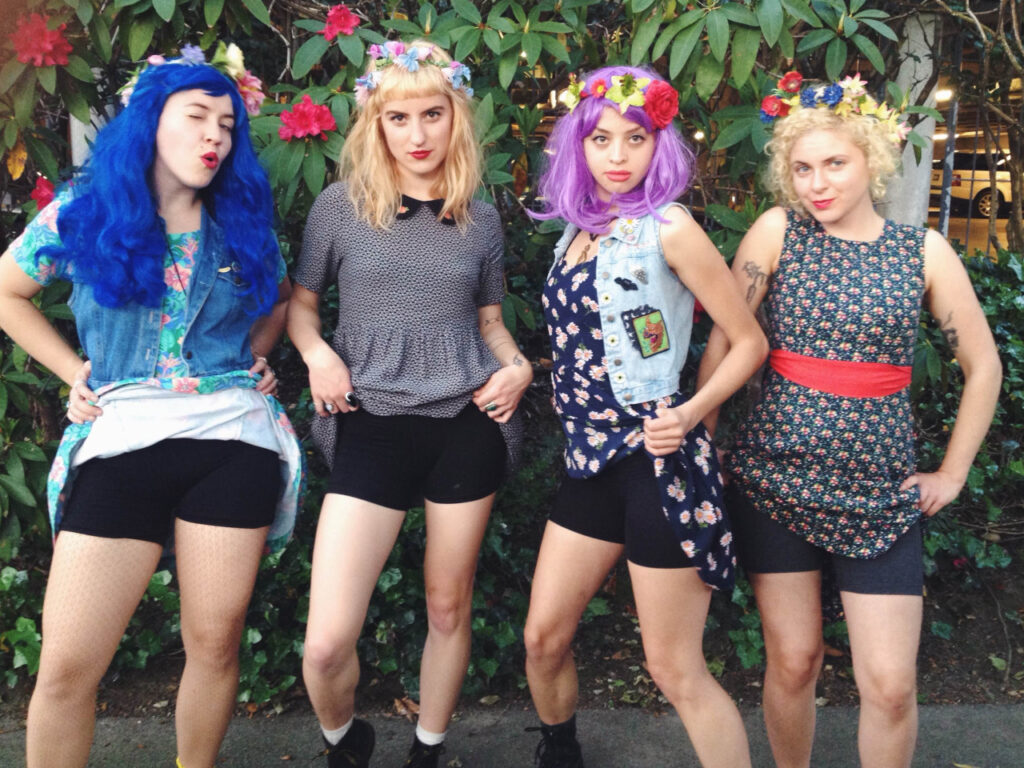 On the powers of humor: We are naturally silly people. That's why our music is funny. We also think that humor is a good way of addressing and coping with topics that are, a lot of times, hard to talk about. Music is accessible. It is straightforward. That's why we love it. We think people can be more receptive to hard topics if they are addressed with a little bit of humor. It is definitely more approachable. That is what we want our music to be like. A lot of the things we talk about are somewhat heavy. There is a feeling of reclamation, or power, in being able to turn a difficult situation into something humorous. If we get catcalled on the street, that's a quick and easy way to feel like shit. There is a cathartic power in being able to turn the situation around, and writing a funny song about it. It feels really good.

On feminism: Although we are all female-identified people, we are also just musicians. We appreciate when we are treated as such when we are at a show, or when we're communicating with people that run a venue. We never want to be on the bill of a tokenized "Girl Band Night." We are definitely feminists. We want to use our band and our music to convey a positive message and make people think about things more critically. It's fine some people are not going to listen to us because we're a feminist band. Why would we need their support anyway?

On accessibility in D.I.Y.: There is definitely a diverse music scene in Seattle, but we would definitely like to see the community grow. We want people of marginalized identities to get recognition for their music, beyond just the underground or D.I.Y. community. Hopefully, in the future, the music scene will be able to grow and become even more diverse.

On advice for young people who want to make art: Your feelings are always valid. Don't be afraid of calling people out. It's okay to say,"You're making me feel unwelcome," "I don't want to be here," or "This space isn't for me." Honesty is appreciated, and it's very important…more so than we are taught to think. Make art! Make music! Just do it! Your community will find you through your work. Although it's hard, try not to be afraid. Just put yourself out there.
Listen to Mommy Long Legs on Bandcamp.

THIS STAFF POST WAS CONTRIBUTED BY:
Emma May is a sophomore at Barnard College studying Women's, Gender and Sexuality Studies. She likes pop-punk, comics, and Haribo.